VICTORIA BECKHAM says Los Angeles already feels like home after just one week there — and she and hubby DAVID may NEVER leave.

She much prefers the life in America, with David and their three boys.

Speaking exclusively to The Sun, Victoria, 33, said: "We've loved every minute so far. I can't see us going back."

She opened her heart on life away from Britain and Spain as Becks prepared for new team LA Galaxy's game against Chelsea today — although his own debut was in doubt due to an injury.

She also told how she and David got so steamed up during a recent raunchy photo shoot they had to take a break and slip away for a ROMP.

Victoria said David, 33, was not bothered about swapping Real Madrid for Galaxy, a team branded no better than a pub side. And sons BROOKLYN, eight, ROMEO, four, and CRUZ, two, are thrilled with their new home.

She went on: "I already feel so much happier being in Los Angeles. This feels like a whole new start for us as a family.

"We can leave the negative stuff from Spain behind. The four years there weren't always easy.

"In Spain we didn't have much of a social life, whereas here we have got loads of friends and it just feels right. No one ever really came to visit us in Madrid, whereas everyone seems to want to come out here to see us.

"I was really nervous about David seeing the new house for the first time, but he loves it and so do the kids.

"David has no regrets. He's got a whole new challenge here in LA and that's what drives him. The decision to move here was very much about what would be good for the family and the boys have been so excited about it.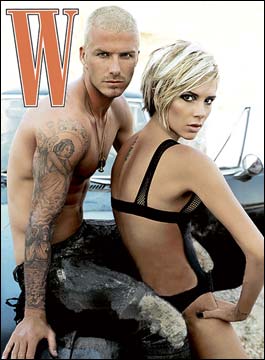 Raunchy ... this photo shoot got the Beckhams
all hot and steamy



"They are getting ready to go to summer camp and make friends with kids from school."

The couple's old home in Madrid is for sale and Victoria's clothes are being shipped to LA to fill the vast wardrobes of her £12million Beverly Hills mansion.

Victoria and David arrived in LA last week to a fanfare welcome. Hundreds of adoring fans turned out. But Posh is not worried about glamorous Californian women throwing themselves at her hunky hubby.

She said: "I know there are plenty of good-looking women here. But there are beautiful women everywhere. It's not really any different."

The Beckham marriage is clearly strong at the moment. The randy pair had to call a halt as they posed for the August edition of W magazine and rushed off to their trailer.

But despite her sexy image in the shots, Victoria insisted: "I'm ugly, I'm not pretty, I'm not a model."

Victoria also said she and Becks are so hot for each other they often send staff away so they can be alone. She insisted she and David do not seek a glamorous lifestyle and enjoy simple pleasures.

She went on: "The fact is, David and I are very boring people.

"We don't go out much. A lot of the time we are at home watching telly and putting the kids to bed.

"I had to laugh recently. We were at DEMI MOORE's house with ASHTON KUTCHER and PENELOPE CRUZ for dinner. We ended up playing dominoes — hardly rock and roll."

Their new friends in LA include TOM CRUISE and KATIE HOLMES, JENNIFER LOPEZ and hubby MARC ANTHONY and WILL SMITH and wife JADA PINKETT. The Beckhams will be guests of honour at a welcome party at Tom and Katie's home tomorrow.

David and Tom have become such good friends, they are talking about buying motorbikes and going on an Easy Rider-style tour of America.

Victoria explained: "Tom and Katie are ordinary people who just happen to be famous. We also have friends here who aren't famous. That's why I know we'll be happy."

Critics slammed a TV documentary she made in LA and claimed she will never make it in the US. But she said: "I don't care. I'm not here to break America. My job is to support David and sort the kids."

Photos yesterday seemed to show Victoria with cellulite on her legs. I couldn't see the slightest trace. And she said: "Everyone has cellulite, it's nothing to be embarrassed about."

Victoria said she and David would be in England for Christmas.

She will be in the middle of a SPICE GIRLS reunion tour and David and their boys will go too. Posh said: "We are nervous, but excited.

"I just want my kids to see me up on stage, because it's always been Daddy who has been the hero.

"They've watched Spiceworld though, and were impressed with Mummy, who can sing, well a bit, dance a bit and act a very little bit."